includes: 100% human hair, customization, cut,style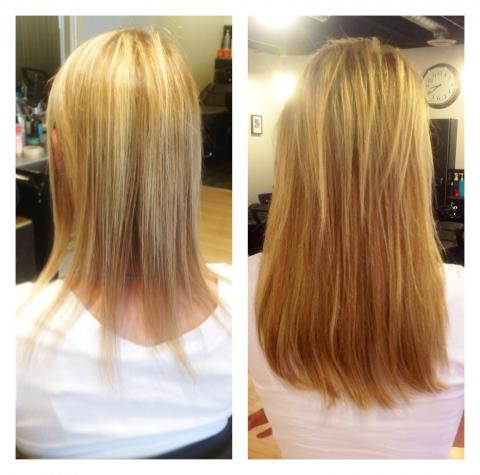 Finally! The long, luxurious hair you've dreamed of... can be yours! Dramatically enhance your hair with natural length and volume using the latest technology in professional human hair extensions. Schedule a consultation with one of our expert stylists: discuss your lifestyle, current hair type and desired style to determine if hair extensions are right for you. There are numerous hair extension methods on the market today and, unfortunately, there are very few that are damage free. Choosing the correct hair extension application method for your hair will keep your natural hair healthy and safe from damage.
 Fast Traxx System 
Adding beautiful length and volume is possible with Tease Salon's newest and most flexible hair extension method. Fast Traxx instantly adds drama and fullness, highlights or lowlights. Need a budget-minded beauty boost? Fast Traxx install in less than 1 hour. Feeling creative? Fast Traxx are the most temporary of all extensions, and available in custom color. Your Tease stylist can create a melt from a deeper root to variegated ends to match your personal flair. Fast Traxx at Tease Salon is a fun way to feel lovely. Right now. For less.